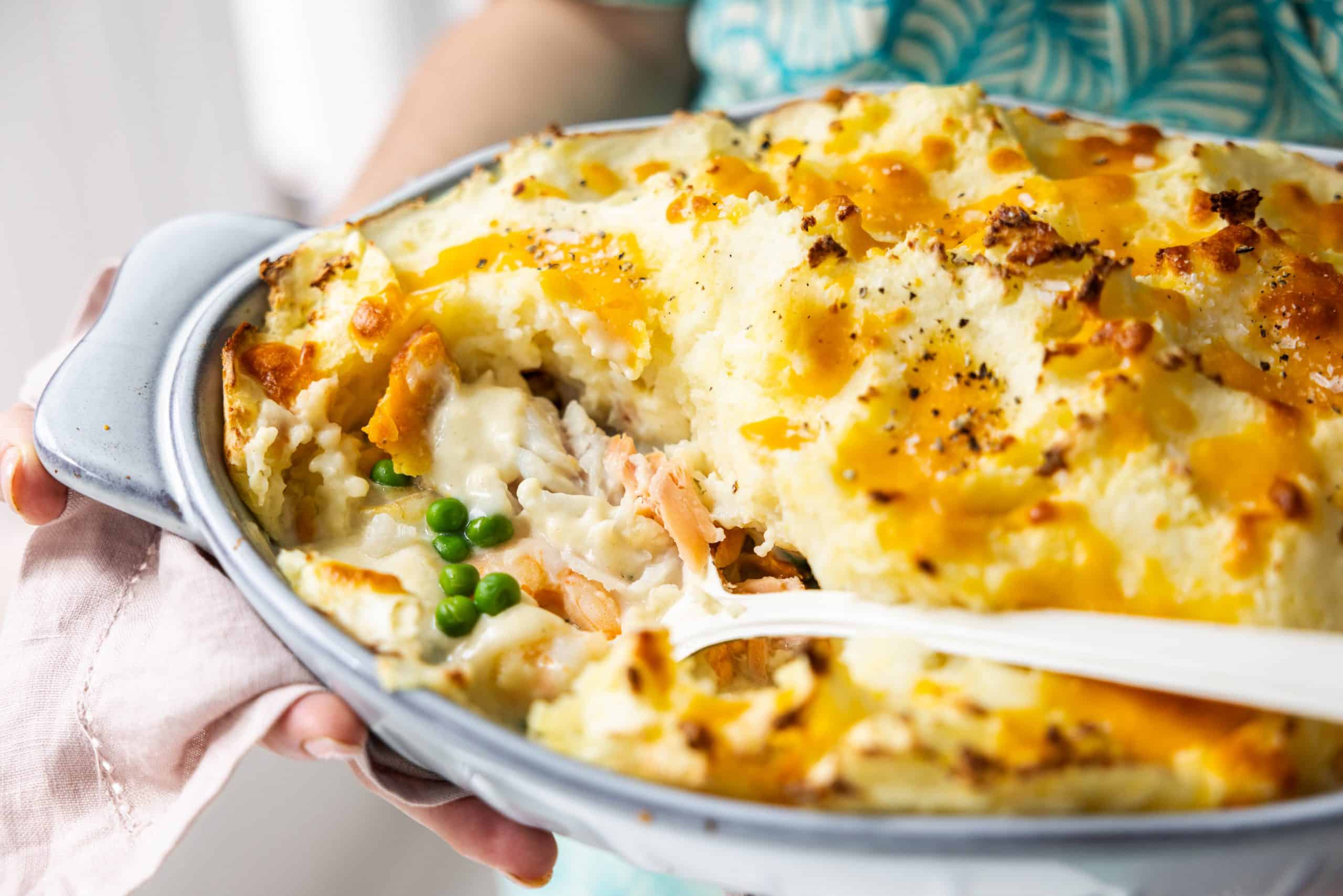 dairy ingredients
Butter, Milk, Cheese, Sour Cream
Creamy Cheese Seafood Pie
DIRECTIONS
Creamy Cheesy Mash
Peel the potatoes. Put a large pan of water on the boil. Add a small sprinkle of sea salt. Gently put the potatoes in and boil until tender. Drain and allow to steam and dry out for a moment. Add in the butter and milk, seasoning and cheese and stir in. Set aside.
Fish
Ask your fishmonger to pin bone and skin your fish. You can poach it in whole fillets or large bitesize chunks.
Place the milk in a large saucepan. Gently sit the fish in, pour the milk over. Pop in the fish stock pot and a little dill or parsley, if using. Turn on a low to medium heat and allow to poach for 5-6 minutes.
When cooked, remove the fish and set aside. Save the milk, this will be used for the creamy sauce.
Creamy Sauce
Melt the butter in a pan, stir in the flour, and cook this over a low heat for 1 minute, until it goes dry and sandy.
At this stage, gradually start to whisk in the milk, little by little until it is fully combined and it forms a thick sauce.
Take it off the heat, stir in the mustard and sour cream, then sprinkle in the grated cheddar.
Place the fish in the bottom of an oven proof dish. Mix all the varieties around.
Sprinkle in the frozen peas.
Pour the sauce over and combine. Spoon on the mashed potatoes. Spread and smooth it out with a spoon.
Sprinkle on the grated cheddar.
Bake in the oven for 35-40 minutes until golden, bubbly and hot all the way through.
Serve with some in-season green vegetables, like leeks, wilted spinach / kale and some peas. Enjoy.