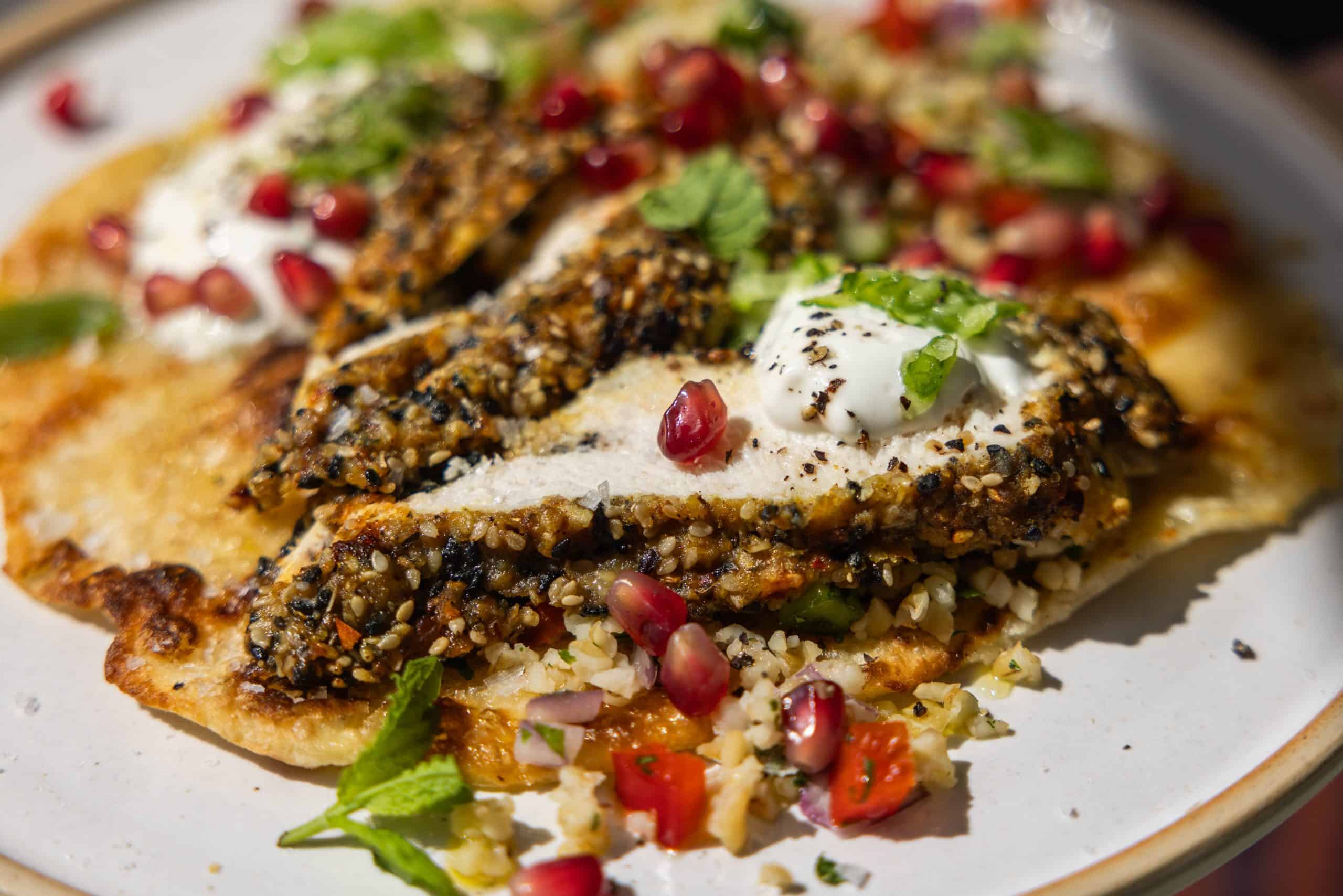 dairy ingredients
Butter, Milk, Sour Cream, Yogurt
Dukkah Spiced Chicken with Tzatziki and Flatbreads
DIRECTIONS
Dukkah Spiced Chicken
Preheat the oven to 180°C. Spoon the yogurt into a bowl. Sprinkle the dukkah and flour onto a plate and stir together.
Butterfly the chicken fillets by cutting a slit lengthways and flattening them out. If using thighs, trim up the chicken thighs and flatten out.
Drizzle oil on the oven tray. Place the oven tray in the oven to get hot for about 3 minutes before cooking the chicken.
Dip the chicken in the yogurt first, then into the flour and dukkah spice mix.
Carefully remove the hot tray from the oven and gently place the crusted chicken on the tray.
Place in the oven to bake for 20-25 minutes or until fully cooked on the inside and crispy on the outside. Sprinkle with sea salt. Allow to rest for a few moments and when ready to serve, slice on the diagonal.
Flatbreads
Weigh out the flour, and add the salt.
Warm the milk and melt the butter.
Combine the wet and dry ingredients and form into a dough. Knead for 2 minutes, divide into 8 balls. Roll out into circles.
Brush a griddle pan with a little oil (a normal pan works fine, too) and cook for about 1 ½ - 2 minutes on each side. Watch as the bubbles form, then flip.
Keep warm and soft by wrapping them in a warm tea towel until the full batch is cooked. I love to brush them with a little melted butter to keep them extra soft.
Pomegranate Tabbouleh
Cook the bulgar as per the instructions on the packet.
Dice up the red onion, red pepper and cucumber.
Shred all of the fresh herbs.
Remove the pomegranate seeds (arils) from the fruit and stir these in.
Season and drizzle with oil. Set aside until needed.
Tzatziki
Grate the cucumber and drain out the water.
Dice the onion (if using).
Combine the Greek yogurt and sour cream together.
Season and add in the cucumber, mint and onion.
To serve, place a flatbread on a plate, spoon over plenty of tzatziki, spoon on the bulgar wheat, top with rocket, and add on the crispy dukkah chicken.
Garnish with fresh herbs and serve.