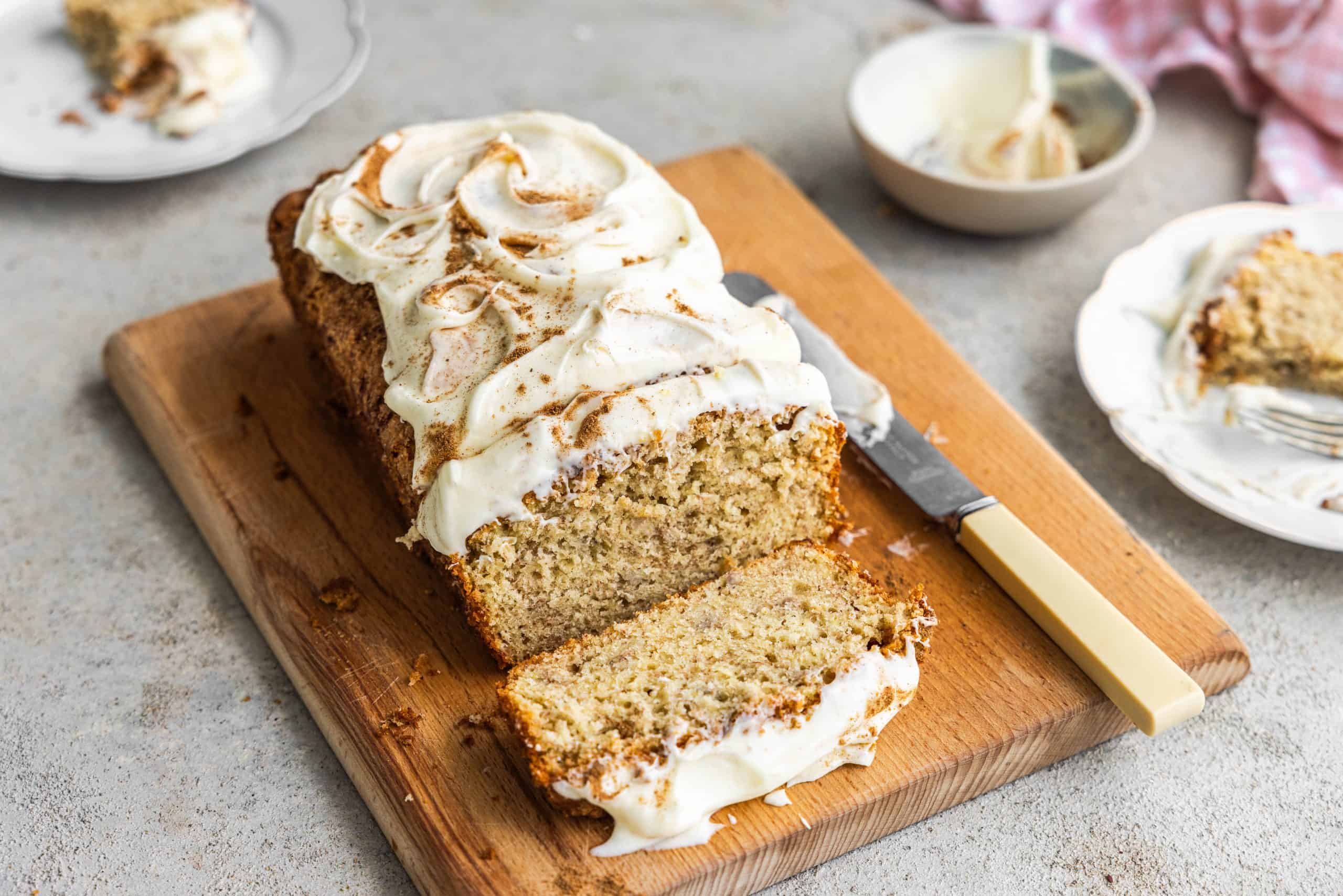 occasions
Breakfast, Brunch, Dessert
dairy ingredients
Butter, Cream Cheese
Banana Bread with a Creamy Chai Spice Topping
INGREDIENTS
Creamy Chai Spice Topping
Cinnamon & Sel De Fleur Butter
DIRECTIONS
Banana Bread
Preheat the oven to 180°C. Grease or spray a 2lb loaf tin or insert loaf tin liner. Weigh and measure all the ingredients.
Mash the banana in a bowl with a fork. Crack in the eggs and whisk through. Pour in the vanilla and combine. Set aside.
Cream the brown sugar and butter. Crack in the eggs and mix until it forms a smooth batter.
Sieve in the flour and chai spice. Then stir through the salt and baking powder.
Pour the cake mixture into the prepared tin. I love to sprinkle a little brown sugar and spice over the top here too.
Bake for 50-60 minutes or until a cake skewer comes out clean, and you see the cake moving away from the edges of the tin.
Creamy Chai Spice Topping
Dollop the cream cheese and butter into a bowl, stir with a spoon, sprinkle in the spice and vanilla, and stir again.
Slowly add in the icing sugar until you reach a thick, spreadable, dolloping texture.
Cinnamon & Sel De Fleur Butter
When the cake cools, spread the icing on top and then garnish with a delicate sprinkle of chai spice. To ensure there is no food waste, after a few days, if there is any left, toast a slice of the banana bread and spread on a little cinnamon and sel de fleur butter.