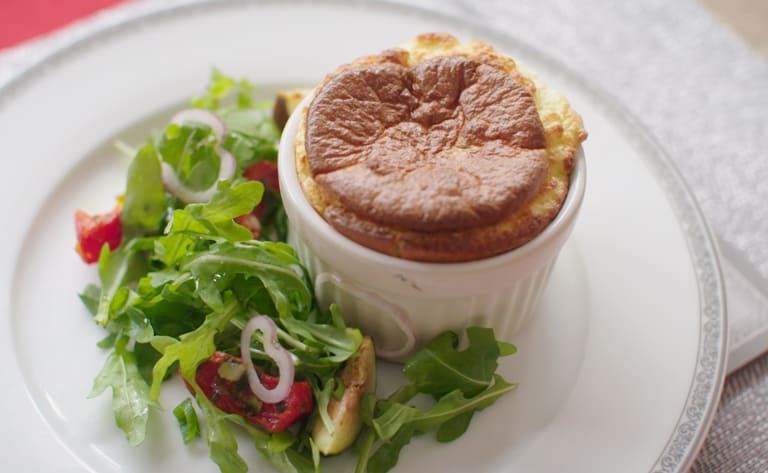 occasions
Dinner, Christmas
dairy ingredients
Butter, Cheese
Cheddar cheese and courgette soufflés
DIRECTIONS
Preheat oven to 200°C fan oven. Grease 4 large ramekins (or 6 medium size ones) with melted butter and lightly dust insides with a little flour.
In a medium heavy based saucepan, melt 25g butter (add a dash of oil if necessary) and sauté the grated courgettes, season and when nicely coloured, remove from the pan. Set aside and wipe out the pan.
Melt the remaining 25g butter in a saucepan and stir in the flour to make a roux, cook for 1 minute. Slowly add the milk, continually stirring to avoid any lumps forming and once all the milk has been added, allow the sauce to come to a simmer (stir vigorously so it doesn't catch on the bottom of the saucepan) until it coats the back of a spoon. Mix in the grated cheddar and cayenne. Taste and season. then slowly stir in the egg yolks and courgettes.
Lastly, in a spotlessly clean bowl, whisk the egg whites with a pinch of salt to stiff peaks. First stir a large spoonful of egg white into the sauce mixture to loosen it, before gently folding in the rest of the egg white mixture.
Fill the ramekins to just below the rim (note: once the soufflés are in the ramekins, they can be made a few hours in advance and chilled until ready to bake).
Bake in the center of the preheated oven at 200°C for 15 minutes. Serve immediately.