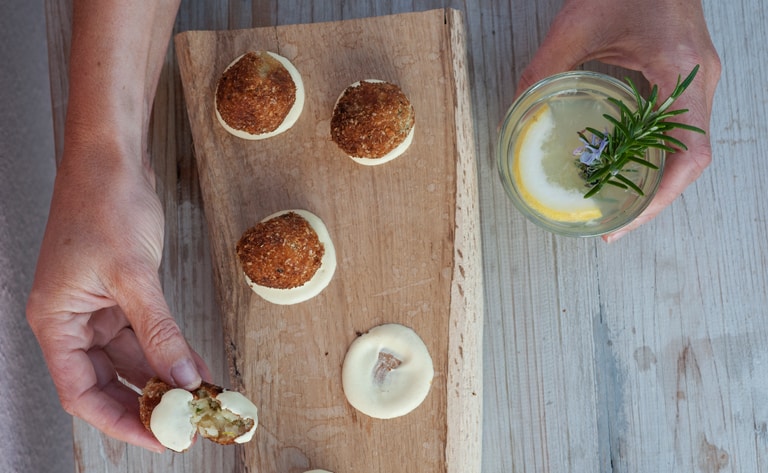 Aged Dubliner cheese oat croquettes with spiced aioli
INGREDIENTS
Ingredients checklist for the spiced aoili (Makes 250ml)
DIRECTIONS
Place the mashed potato, mustard, chopped flat parsley, and cheese into a large bowl and mix well together.
Scoop the mixture using a dessertspoon and form balls the size of a table tennis ball and lay them once shaped on a tray.
Using a pastry brush, gloss the croquettes with the beaten egg.
Scatter the fine bread and oat crumbs on a large plate and one by one gently roll the croquettes in the crumbs.
Fry the croquettes in a frying pan with hot oil, turn once golden or alternatively bake in a pre-heated oven at 200oC for 15 minutes.
Serve with spiced aioli, see recipe below.
Ingredients checklist for the spiced aoili (Makes 250ml)
Crack the eggs yolks into a bowl, along with the teaspoon of Dijon mustard, and lightly whisk.
Mix the olive and vegetable oil together, and then slowly pour while whisking into the egg yolks. The mayonnaise will begin to get thick and creamy.
Stir in the lemon juice, crushed ½ clove of garlic and smoked paprika. Season with sea salt and freshly ground black pepper.