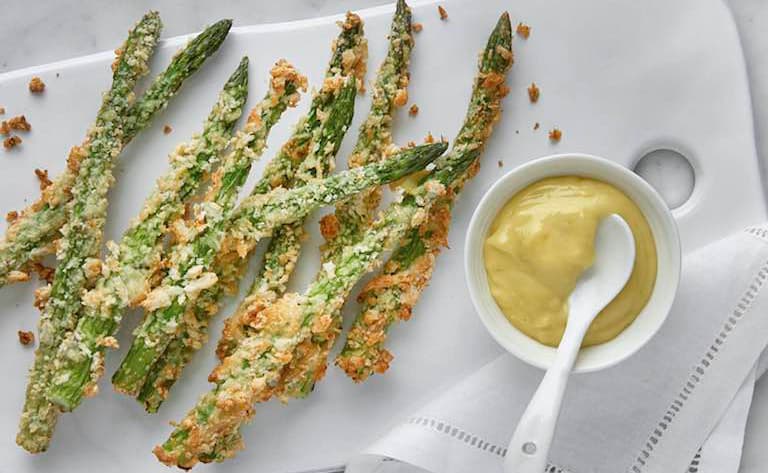 Crispy Skellig sweet cheddar parmesan spears with a lemon aioli dip
INGREDIENTS
Ingredients checklist for the lemon aoili
DIRECTIONS
Place a wire or cooling rack on a baking sheet and coat with non-stick spray.
Start by making the cheese crumb mixture. Place the panko breadcrumbs, Skellig sweet cheddar and parmesan cheese in a bowl. Season with sea salt and freshly ground pepper, and zest the lemon into the mixture. Mix well and set aside.
Place the whisked eggs and flour in two separate bowls (or plates).
Dip each asparagus spear in flour, followed by the egg, then lay in the cheesy breadcrumb mixture and cover.
Transfer the coated spears to the wire rack and place in the pre-heated oven for 15 minutes, or until golden brown and crispy.
While the spears are cooking, make the lemon aioli, see recipe below.
Ingredients checklist for the lemon aoili
Crack three egg yolks into a medium sized bowl, followed by a teaspoon of dijon mustard, a pinch of sea salt and the juice and zest of one lemon.
Measure out 100ml of vegetable oil and 100ml of extra virgin olive oil and whisk into the egg yolks slowly. The aioli will begin to get thick and creamy.