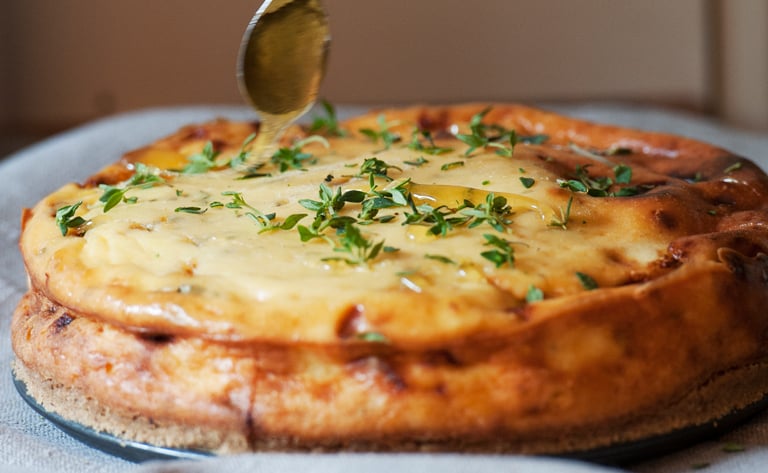 dairy ingredients
Butter, Cheese, Sour Cream
Cashel blue oat cheesecake with Irish honey and thyme
DIRECTIONS
Preheat the oven to 140oC. Grease and line the base and sides of a 20cm springform cake tin with baking paper. Mix the oatcake crumbs, whizzed walnuts and melted butter with a pinch of salt and a grinding of pepper in a bowl until thoroughly combined. Transfer the buttery crumbs to the prepared tin, use the back of a spoon to spread the crumbs in an even, well-compacted layer. Chill until needed.
To make the filling, beat the cream cheese with a wooden spoon until smooth. Add the sour cream and beat again. Gradually pour in the eggs, beating after each addition until fully combined.
Sift the flour over the cheese mixture and gently fold it in. Fold in the blue cheese, thyme leaves and honey. Mix well.
Scrape the mixture into the filled cake tin, smooth the top and transfer to the oven. Bake for 1 hour or until just set, with the tiniest wobble in the centre. Turn off the heat and allow to cool completely in the oven. Serve with a drizzle of extra honey.