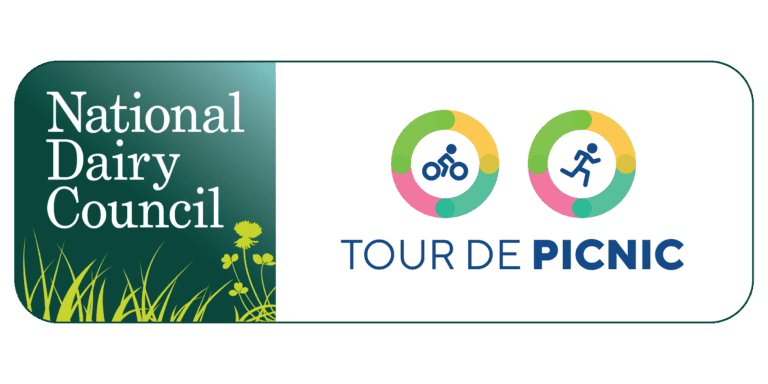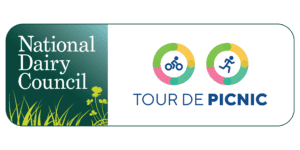 Only three weeks to go to one of Ireland's top outdoor festivals of the Summer and probably the hottest and most anticipated! Fear not, as signing up for the National Dairy Council Tour De Picnic 2022 17km run or 80km cycle is your final chance to nab a golden ticket to the festival of the summer which sold out in under thirty minutes this year!
Funds raised by Tour De Picnickers will go towards three worthy charities this year – LauraLynn Children's Hospice, Ronald McDonald House and ISPCC Childline. The fundraising deadline is 12th August 2022.
To help you prepare even further, NDC has teamed up with sports dietician Evan Lynch and Food Creator and Physiotherapist Sinead Delahunty to bring you a series of training videos and nutrition advice to ensure you are in tip top condition for the cycle or run. These will be available to view on the Tour de Picnic website and we will also be hosting a special Instagram Live with Evan and Sinead on Monday 15th August at 7pm where you will be in with a chance to win a pair of golden tickets to the Picnic!
Departing from Tallaght Stadium, the cyclists will head for the Blessington Greenway to meander through some of Ireland's biggest dairy farms and the picturesque village of Brannockstown. They'll then make their way along the Barrow Blueway before reaching Stradbally. There will be some much-needed sustenance along the way too!
As for those lacing up their running shoes, their journey starts at Course town B&B and Country House, a dairy farm in Athy, Co Kildare. The 17km run covers farmland and Coillte forests; passing through Oughvale Woods always a stand-out moment for runners as they take in the beautiful Irish countryside. And there will a much-needed celebratory meal later on with cheeseburgers, grilled cheese sandwiches, ice cream and a massage, followed by weekend of incredible entertainment.
This year participants are required to raise €450 (including registration) for the NDC Tour De Picnic charities to take part in this exhilarating fundraising and fitness challenge, with their weekend pass to Ireland's most popular music festival waiting for them at the finish line.
The stunning 80km cycle through some of Ireland's best cycle ways will begin with a healthy breakfast party including Irish milk, yogurt, fruits and porridge held at Tallaght Stadium on the morning of September 2nd to keep you energised as you push those peddles towards the Picnic. There will be additional "Fuel stops" on the way to the Picnic where runners and cyclists can refuel with milkshakes, smoothies and other energy fuelling snacks along with water.
Communications Manager of the NDC Cathy Curran said, "The National Dairy Council is thrilled to see the return of Tour de Picnic this year and looks forward to reconnecting the story of Irish dairy with the Electric Picnic audience. We love that 75% of Irish people agree that Irish dairy is the best in the world. But that's not just about how great it tastes. Irish dairy has such a great story to tell – about its nutrition credentials, its sustainability credentials and why it's such an important part of our heritage, one we should all be extremely proud of."
So, what are you waiting for… grab your runners and sign up at https://www.giv2go.com/fundraising-events/tour-de-picnic-2022-167
And if you are looking to get your staff involved in a fun charity activity, TDP also have some great corporate packages available with the bonus of an EP ticket, please do get in touch with us at support@give2go.com
Ends
For further information and press queries please contact Lindsey – lindsey@lhpublicity.ie, Deirdre – deirdre@lhpublicity.ie , Sorcha –  sorcha@lhpublicity.ie
Cathy Curran, Communications manager NDC ccurran@ndc.ie
Notes to Editors:
The Department of Health's Food Pyramid recommends 3 servings from the 'milk, yogurt and cheese' food group each day as part of a healthy, balanced diet. Examples of one serving include 200ml of milk, 125g of yogurt or 25g of hard cheese.
Milk, yogurt and cheese are important sources of calcium, a mineral needed for healthy bones and teeth.
Milk is rich in protein and is a 'complete' protein, meaning it contains all of the essential amino acids (building blocks of protein) that our bodies require.
Interesting research is emerging on the specific benefits of milk in sport, with potential roles in the areas of recovery nutrition being explored. Milk naturally contains nutrients that can help address the 3 'R's of post-exercise recovery:
Refuel: Milk contains lactose which can help to start the refuelling of carbohydrate stores. Flavoured milks-which contain higher carbohydrate amounts in the form of added sugar may be useful after a very intense session or when quick recovery is needed.
Repair: Milk provides the high-quality proteins whey and casein. Protein plays a role in the normal growth and maintenance of muscles.
Rehydrate: Milk is a fluid (naturally composed of about 87% water) and naturally contains electrolytes such as potassium.