A group of dairy farmers in Knockanore, Co. Waterford have sponsored their local GAA club for the next five years to highlight the importance of sustainable dairy production. The Shamrocks GAA club, made up of combined parishes in west Co. Waterford (Knockanore, Glendine and Kilwatermoy) has been sponsored by 22 dairy farmers in the area with the help of the National Dairy Council (NDC).
The special GAA jerseys have "sustainable dairy" logo designed by the National Dairy Council in conjunction with the group of farmers involved in the sponsorship. One of the project leaders is Kevin Moloney and business partner Mike O'Neill, who farm 350 cows across two farms of 350 acres at Knockanore in Co. Waterford and supply Tirlán.  They have been farming together for the last seven years and are both involved in the Rural Environmental Protection Scheme (REPS). Kevin is currently doing a Diploma in Environment, Sustainability and Climate, which is a joint venture between UCC and Tirlán.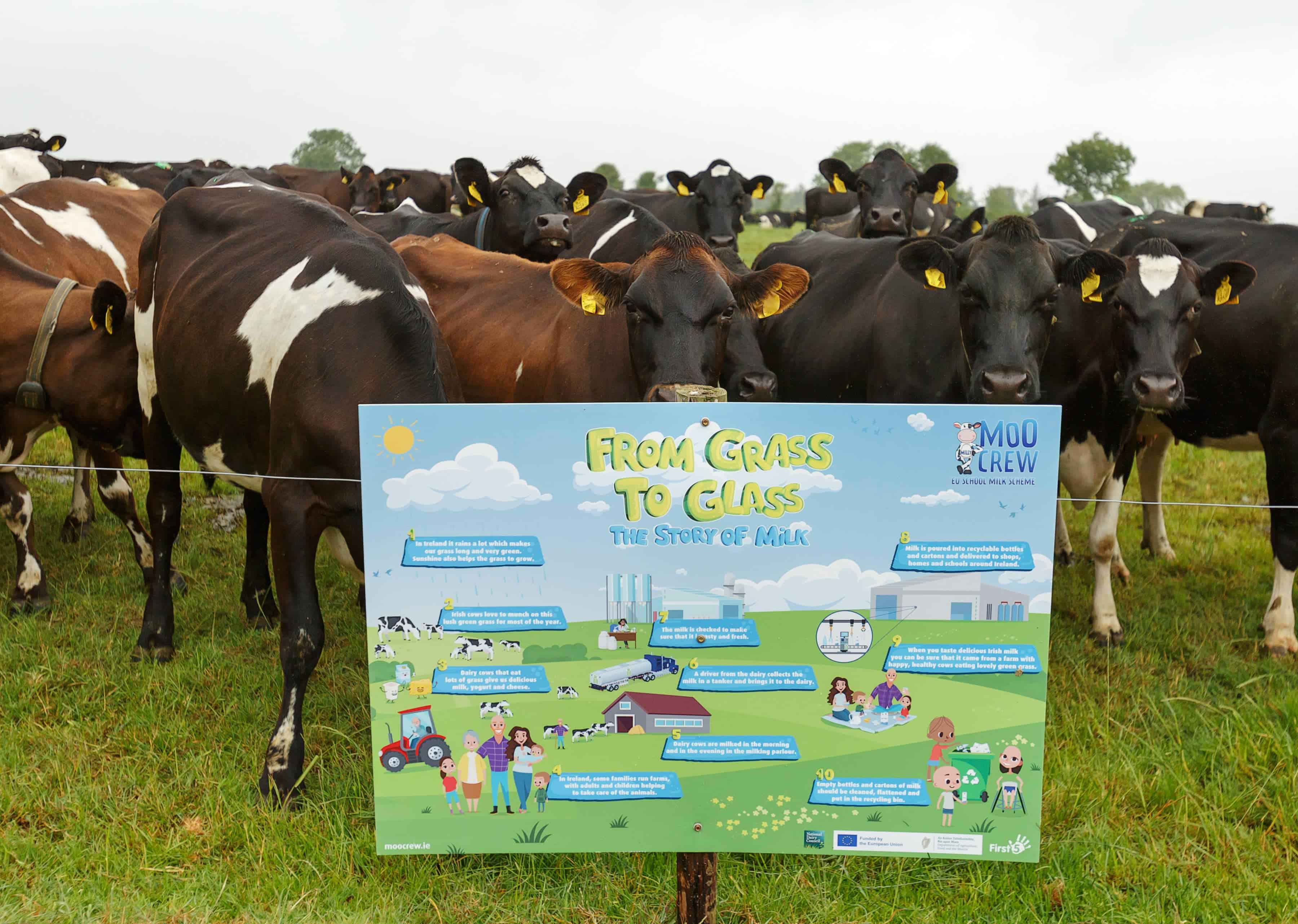 There were two sets of jerseys given to both the men and women's adult teams. A jersey was also supplied to every child in Knockanore National School, where there are approximately 100 children.
Kevin held a special farm visit last Friday for 100 children from Knockanore National School. With help from the other dairy farmers, they showed videos that highlighted milking and silage in action as well as teaching the children about the Grass to Glass Story from NDC and all about the unique wildlife found on farms.
Working with Nature
Kevin said:
"We want to show people what really happens on a farm. Growing up, most of us were farmers but that's not the case now in rural Ireland. It's a case of educating and telling children where their food comes from. We want to stand up and tell people the good things that we're doing for the environment firstly but also for our local communities. How much we're [farmers] doing for the environment but also to show we're a big part of the local economy, especially when rural Ireland is in decline; it's about putting money into small parishes,"
As a young progressive dairy farmer, Kevin believes in working with nature to farm more sustainably. He has undertaken several initiatives to lower emissions on his farm including the planting of trees and hedgerows and installing two ponds and a nature area for wildlife.  Kevin says.
"Last May I started growing multi-species swards on my fields, these consist of a variety of plants from different families including clovers, grasses, brassicas and herbs. The benefits of a multi-species sward is that they require reduced fertiliser while maintaining a steady growth rate. A sward with a clover content of between 20-50 % can allow fertiliser application in the summer months to be halved. Living in the scenic Blackwater Valley, it's important to keep respecting this land and the nature around it"
Beyond production, farmers are dedicated to the environmental wellbeing of their farms. Moving fences out from hedgerows and watercourses to increase field margins – the areas between the grazing pasture and the field boundary – leaves space for nature and helps to keep pesticides, fertilisers and slurry away from watercourses and hedgerows. Irish farmers want to be given the chance to continue their work while still producing the best milk in the world.
For further information on the sustainable practices of  Ireland's dairy farmers and to find out more about NDC's Farm Ambassador Programme please visit  www.ndc.ie.
Contact: Cathy Curran, Communications Manager | NDC | ccurran@ndc.ie | M: +353 86 877 7664 | T: +353 1 290 2451